Post by Dr. Harleen Quinzel on Jun 26, 2011 18:46:50 GMT -5
Canon or your own
Canon
Civilian Identity
Dr. Harleen Frances Quinzel
Alias
Harley Quinn
Gender
Female
Age
Dr. Quinzel is twenety-six years old
Occupation
Psychotherapist at Arkham Asylum
Appearance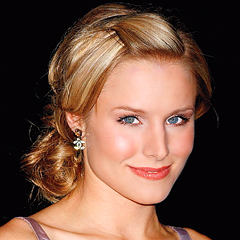 Personality
Growing up, Harleen would be described as humorous, naïve, bubbly and sociable. She had many friends to which he used for her own pleasures. She would purposely lie to her friend maybe to stay over their house, or to convince them to take their mothers car. She always had tantrums when she didn't get her way in life. She never took anything too seriously and was extremely playful. One of her most faulty traits was her reasoning behind her antics. When she was a freshman in high school, she told the police that she was raped by the star football player because he wouldn't have sex with her, she found the irony gut-bursting! Harleen soon took on the name Harley Quinn as an alias, which invoked the interest of her school psychiatrist. She attacked him once for calling her Harleen when she repeatedly told him her name was Harley Quinn. Harleen had a bad temper since she was younger, always wanting her way. Her psychiatrist sent her to get help and she was diagnosed with being a sociopath. With multiple years of counseling and therapy, her symptoms began to dissipate.
As she got older, and started college, she became more civilized and prudent. It was as if she was a completely different person. She became one of those people who takes herself too seriously. She is organized and anal retentive about her office and her home. Because of this, many people see her as mean and bitchy. She is constantly cleaning something, it keeps her grounded and keeps away thoughts. It was something that her psychiatrist taught her to keep her symptoms at bay. Harleen is also very sneaky and manipulative, the only symptom that she has left. To her patients, she strives to get results in any way that she can even if she must lie to them. She does this because she wants to be good at what she does and Arkham is a criminally insane prisons. Curing someone admitted there would be career changing and she would finally show everyone she wasn't crazy. She fears that she may crack one day…and Harley may return.
Abilities:
Hypnosis – She has learned through her studies how to hypnotize her patients. Though she could hardly just look at someone and hypnotize them.
Flexibility/ Human Peak – In the aspect of flexibility and speed, reflexes, etc, Harleen is at the human peak. Something she learned when she was younger.
Equipment:
None.
Weaknesses:
Psychological Break – She'd never admit this to herself but she knows that one day she will break under pressure and return to her old ways. Her sanity being at stake.
Naïve – Harleen can be truly naïve and trusting when she in one of her little episodes.
Sensitive – Harleen is very sensitive to what people say to her although she never expresses those insecurities.
Background:
Harleen Quinzel was born into a middle class family. She had everything a suburban girl could ever want but she wanted more. It wasn't long before she began to lie to people to get what she wanted from them. Her mother never took serious notice to her because she keeping an eye on her drunk, cheating husband. Her father had a sick sense of humor and would tease Harleen's mother right in front of her. It wasn't long before Harleen joined in on this. She always longed for an escape from her life always wanting to just be a little girl.
When her parents argued or fought, she would sit herself down in front of the TV and get completely captivated into the television. Love stories that made her feel one day she would be away from all of this. It wasn't until she truly needed a real escape that she started conning her friends, using them to get out of the house, using them for money or just pawns in any given ambition. Her friends soon picked up on her 'ways' and dropped her like a bad habit. So she was back at home again, lost in the never-ending drama that was her life.
Her father consistently drank himself into a stupor and on occasion put his hands on her. Her mother did nothing to stop this and Harley swore that she would teach her father a lesson. One day while he was drinking, she dosed his drink with a tonic that would make him groggy. On top of the alcohol, he could barely walk let alone fight back. He was her second victim, breaking his arm with a hammer from the toolbox he kept under the sink. Her mother finally had her committed but because Harley was such a good liar no charges were brought upon her.
Unloved and broken, she continued with therapy waiting on her proverbial prince to come and rescue her from the asylum. He never showed so Harley settled for the many male staff members that would give her the time of day. Because of her relations with the staff, many of her beau's were fired or let go. Again, she was alone and by herself, shut off from the outside world that she longed so much. Despite herself, she decided to actually try in therapy and when she did, she recovered after three years of outpatient therapy. Because of her appreciation of her new self, she decided that she would help others in the same way, and become one of the people that helped her, a psychiatrist. And after years, of hard work, she finally landed an internship at Arkham Asylum for the Criminally Insane.
Base of Operations:
Gotham City
Sample Post:
The smell of fresh cut grass was overwhelmingly pleasant on this early Saturday morning. It reminded her of back home in Ohio. All the small houses lined up, one by one. The neighborhood kids cutting the local elderly ladies grass, who had no kids or husband to speak of. Watch while Mrs. Mitchell tended to her flower bed, she had the best flowers on the block. It made her sick! Those simpletons back home didn't know what thrill was or what it stood for, not like Harleen. Harleen sat in the air conditioned town car back seat, with her hands busy with stress balls. It calmed her nerves and prevented her from having any type of episodes.
I am calm and collected. If something comes up, I can handle it. My name is Harleen Quinzel, not Harley Quinn..
Harleen repeated the mantra in her head. It was something she often told herself.
Her therapist, Gertrude had told her that it was a good idea to remind herself that she was in control. She had been doing this since she started college. The town car came to a stop and Harleen put her dark shades over her face as the door opened.
She climbed out, letting her job required black heels click against the stone bricks that made up the driveway. She walked inside immediately as Dr. Thompkins met her at the door. "You must be Harleen Quinzel…I'm Leslie Thompkins." The doctor said with an extended hand. Harleen looked at it and smiled politely to her, "thank you for this internship. I know most people would have wanted this and I am honored that you have given it to me." Harleen said, obviously rehearsed.
She had to appear normal, somewhere inside of her she knew Harley was screaming to be let out. Dr. Gertrude had told her that it was unhealthy to look at her past, untreated self as a different entity, but Harleen did it anyways. She wasn't that person, she couldn't be that person anymore. "There is a man here who exposed himself to a couple officers and tried to fight them. He's our newest resident, were calling him John Doe as of right now." Dr. Thompkins told Harleen. A small giggle escaped Harleen's lips and Dr. Thompkins gave her a astounded look. Harleen turned her face straight "why so serious? I think a little does of humor is healthy for the deranged. This man that you speak of may just have a twisted sense of humor. I doubt he is criminally insane." Harleen said as Dr. Thompkins just stood there looking at her. Harleen looked down and cleared her throat, ashamed of her laughing at this man's crazy antics. "So.." Harleen started as they entered the office, "when do I meet him?"