Post by The Joker on Jun 5, 2011 0:52:41 GMT -5
Canon or your own
Canon
Civilian Identity
Jack Napier, Mervyn White, Joseph Kuhr, Joe Kerr, or whatever other civilian Identity he feels like using. His real name is lost in insanity.
Alias
The Joker
Gender
Male
Age
28
Occupation
Chaos
Appearance
(Without makeup)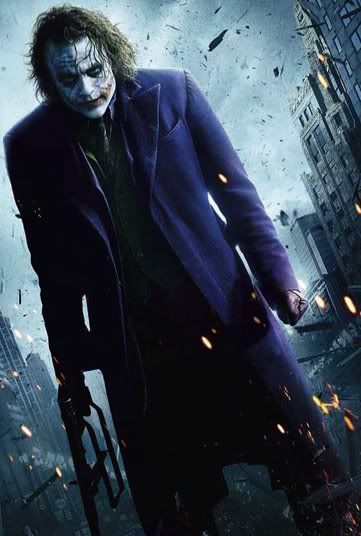 (With makeup)
Personalty
The Joker's insanity appears to be a strange mixture of violently aggressive psychopathy, nihilism, and fixated narcissism. He has frequently been shown to have no regard for human life, and treats the pain and suffering of others as personal sport.
However, despite his insanity he often displays a calm persona. He never displays any true signs of anger. He is also very intelligent and a good planner, being able to outsmart the police every time they try to stop him. He also shows that he can figure how people think, as well as how to manipulate their minds.
Many of his plans often forces people to make extreme choices and force them to chose between themselves and others. The Joker has no specific goal other then to simply spread chaos and erode law. Though he claims this because the only sensible way to live is without rules, considering his sadistic nature his motive simply seems to be that he only wants to see chaos spread for his own amusement.
Fitting his goal, the Joker makes it clear he doesn't care about anyone or anything, even himself. He willingly puts himself in danger without any regard for what might happen to him. Despite that, he apparently isn't willing to put all of his faith in a plan unless he's sure it will work. Due to his mental state, the Joker is immune to fear as he does not understand the concept and sees everything as a joke.
Joker actually existed in a state of almost "super-sanity". This means that he sees how the universe really is, without any personal illusions, and that his entire personality can alter to fit the circumstances, making him excellent at impersonating and lying as he truly believes what he says. He has no true personality of his own. He actually redefines his own personality every day. On any given day he can be a harmless clown or a vicious killer, depending on which would benefit him the most.
Abilities:
Pain Resistance: The Joker is masochistic in nature, and thus enjoys any pain received, making it an ineffective way of dealing with him.
Genius-level Intellect: The Joker is also very skilled in the fields of chemistry, genetics, and nuclear engineering. He also seems capable of mastering whatever he puts his twisted mind to when he wants to.
Skilled street fighter: The Joker has frequently proven himself to be an excellent hand-to-hand combatant. His ability to withstand seemingly any amount of pain, and the agility granted him by his insanity and willpower makes him a fearsome physical foe. He fights nearly completely unpredictably, and always has tricks up his sleeves for if he's losing.
Marksman and Weapons Expert: The Joker is incredibly skilled in the use of various forms of firearms, bladed weapons, and explosives.
Superior Strategist: The Joker is a highly efficient criminal strategist and organizer who is proficient in manipulating both his enemies and allies alike to achieve his goals
Expert Thief: Extraordinary ability at picking locks and pockets, escape artist; therefore, he is very stealthy and good at sneaking up on people.
Cheating Death: The Joker has cheated death numerous times, even in seemingly inescapable and lethal situations.
Untraceable fingerprints: The joker's prints are just solid black blobs with no patterns thanks to "Acid. Lots of it."
Equipment:
Custom clothes with his preferred choice of knives, guns, and other various, high end, exotic military hardware and weaponry. The Joker also employs a few crudely made explosives and specially designed hand grenades. The Joker is unpredictable in that he will use any kind of weapon afforded him.
Joker Venom: A deadly poison consisting of strychnine and household chemicals the Joker can re-create at will. The compound infects his victims with a ghoulish rictus grin as they die while laughing uncontrollably. This venom comes in many forms, from gas to darts to liquid poison.
Joker's joy buzzer: The Joker often uses a modified novelty joy buzzer strapped to the palm of his hand. The buzzer administered a lethal dose of electricity into anyone who comes into contact with it.
Weaknesses:
Shares the weaknesses of any normal mortal man.
Background:
Accounts of the Joker's origin story have been varied and numerous. He himself has told the story of how he came to be in several different variations, saying that sometimes he remembers it one way, sometimes another; and that if he has to have a past, he "[prefers] it to be multiple choice."
Due to unknown means, The Joker was beaten within an inch of his life, with his mouth cut from ear to ear and left for dead in an alley. Despite this, he survived, although his sanity was not intact. He went crazy and became a wild madman murdering all across Gotham City. Men, women, & children, he killed unbiasedly. The murders went unsolved by the Gotham Police.
A spark of inspiration went through The Jokers mind as his murder spree went unchallenged. He went into the police station nude, and started laughing historically before attempting to fight a swarm of Police Officers. He was beaten and subdued.
The Joker was brought to the Gotham Hospital. His fingerprints were unidentifiable, and his blood did not match any on record. When the Gotham police interviewed the man, he did nothing but laugh. The name was labeled a John Doe. After being checked out of the hospital, he was declared mentally insane and placed in Arkham Asylum, Gotham's local nut house.
(As of right now, he does not use the name Joker, and does not wear make-up)
Base of Operations:
Gotham City, Arkham Asylum
Sample Post:
The Elizabeth Arkham Asylum for the Criminally Insane was receiving a new inmate today. Some crazy man who ran into the Gotham police station nude and started a fight with the officers. The bruises from the exchange could still be seen all over his face and body. Which only enhanced the already disfigured man's overall creepiness factor.
Two diesel asylum gguardsdragged the man down the halls from both sides of his straight-jacket. He laughed and chuckled as his brown eyes roamed around. 'John Doe' was taking mental awareness of the asylum's layout. Thoughts and ideas bubbled up in the man's twisted mind. Unknowingly to everyone else, he had a plan.
'John Doe' was thrown into a padded room with distaste from the guards. They obviously had enough of the man's weird laughing and disfigured faced. Slowly the man rose from the ground and stood stiffly erect in the center of the room. He slightly tilted his head to the side and started laughing even louder than before. Freaked out even further, one of the guards asked from the room entrance
"What's so funny?""Well ya' see, I'm laughing becccccauze......your both going to die ahahaha"
said 'John Doe.' The two gaurds backed up further from the room and slammed the metal door closed. Swiftly they locked it from the outside and sped off to their other endeavors. They didn't know what to think of the man. They dealt with psychotic people on a daily basis, however something was seriously freighting about this inmate. `
"Oh.... now this should be a challenge ahahahahahahahahaha, fun, fun, fun, fun, fun!"
babbled 'John Doe' as he pulled his arms outward to test the strength of the straight-jacket