Post by Virgil Hawkins on Jun 20, 2011 23:58:27 GMT -5
Canon or your own
Canon
Civilian Identity
Virgil Ovid Hawkins
Alias
Static
Gender
Male
Age
18
Occupation
Student
Appearance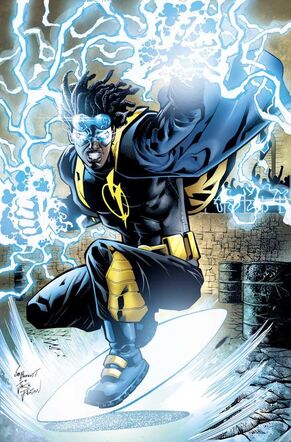 Personality
Virgil is a kind and caring person. He'll go out of the way to help someone. He was like this before he had his powers this part of his personality is one of the reasons he chose to become a superhero after receiving his powers. Being like this has been none to get him into trouble as he will stand up to people stronger than him which can lead to getting his butt handed to him.
Virgil is also fun loving. He loves to crack jokes and pranks especially when it comes to his older sister. This shines when he is fighting crime he'll often insult villains by calling them names and saying a joke after he defeats them. He has been known to secretly use his powers to humiliate bullies and jerks at school. (Though never for fighting.) Besides pulling pranks Virgil loves playing video games, reading comic books and science fiction.
Virgil is a very loyal person. He's not only loyal to his family but, also to his friends. Even though he may argue with them occasionally at the end he'll always make up with them. This loyalty sometimes gets in the way of his superhero alter-ego and vice versa. His loyalty also means he has to lie to many of his friends and his family members about being Static as he would never want to endanger them.
Abilities:
Super-Conductive Electromagnetism: Static can generate Raw Electromagnetic Energy, which he has learned to manipulate, control, to sense sources of electromagnetic energy, electricity and magnetism and administer as a range of attacks with a range of uses; he can charge devices (such as the Justice League's Watchtower) with electricity, and alternatively drain the energy from them into himself, magnetize and demagnetize metals.

Picking up Radio Frequencies: Static can hear Radiowaves meaning he can listen in on the police broadband and music stations, as well as tapping into the phone lines so he can make calls.

Electronic Energy Storage: Static can choose to keep the electromagnetic energy that he currently holds in his body by controlling the Current and Voltage for whenever he wants to use it.

Electromagnetic Force Bolts: Static can fire Bursts of electromagnetic energy from his hands for uses like electrifying objects, administering large scale Static-Clings, generating shields and barrier.

Electromagnetic Fields: Static generates an Electromagnetic field.

Electromagnetic Levitation: Static can cause metal objects to fly.

Static Cling: Static can adhere most objects and people to surfaces and other objects along with magnetizing surfaces.

Taser Punch: An electrified punch administered during combat.

Electromagnetic Displays: Electromagnetic Light Displays that Static can shoot into the sky in the forms of pictures and words.

Electromagnetic Shields and Barriers: Shields and barriers that Static can generate with Electromagnetism to block, repel, and, defend himself in battle.

Ball Lightning: Electromagnetic Energy compressed into a large ball and thrown at targets.

Electromagnetic Pulse: Static can make electromagnetic pulses which disrupt electronic devices.
Equipment:
Hover Disc: Static has created a disc that consists of eight, interlocking plates that, when not in use can fold up. The disc allows Static to fly without him having to find another metal object to use for flight.
Weaknesses:
Besides the normal things humans are weak to Static is weak to large bodies of water. If placed in a large body of water Static's powers will short out and his body will be go through pain until removed from the water. Static cant use his powers on various objects such as Wood and Rubber.
Background:
Virgil was born on Paris Island, the poorest and most crime-ridden neighborhood of Dakota City. In Paris Island gangs were commonplace, and turf wars a regular occurrence. Eventually all the local gangs agreed to settle things once and for all, at an intersection of the three main gang's territories.That night more than five hundred gang members converged armed and ready. It didn't take long for the police and the Mayor to find out about this. The Mayor decided to take advantage of the situation and once the fighting began she ordered for the police to release a special tear gas containing a harmless radioactive marker, which would allow them to track any gang members who got away for days afterwards, and then they'd move in on the gangs in force and apprehend as many of them as they could.
Though things didn't go as planned. Over 90% of the people exposed to it were killed. The remaining survivors mutated into hideous monstrosities or gained super human powers these survivors were dubbed bangbabies. Virgil was there when this happened. He like many students was bullied and beat up constantly. But after taking one beating too many he was given a gun by some gang-member friends, after telling him that if he was tired of being pushed around, then he should meet them at the gang war. Virgil reluctantly showed up and decided to hide behind crates and barrels. He eventually decided that this lifestyle wasn't for him and tossed the gun into the water and ran off. When the gas exploded Virgil was endowed with various electromagnetic powers. After gaining these powers he decided to become a superhero like the ones he grew up loving, thus Static was born.
Virgil quickly learned that being a superhero isn't all rainbows and unicorns(Who would have figured.) The only person who knows about his powers is his best friend and he can't use his powers against bullies for fear of people figuring out that he's Static. Protecting the city for near constant superhuman threats causes him to drop everything in his personal life. This leads to arguments between him and his friends. Along with dealing with his superhuman enemies such as Hotstreak, Commando X, and Holocaust.
Eventually Static met another individual with abilities Dusk. Dusk was a teen superhero much like Static. Static and Dusk quickly became friends, fighting crime and, eventually dating even though they had different viewpoints on various points such as using reasonable force. The two of them assisted the police on a drug bust, only for Static to discover one of the dealers was Frieda's boyfriend. Shocked, Static initially let him go, putting a slight rift between him and Dusk. The next day the two heroes caught up with him just as some other dealers decided it was time to silence him. Dusk was shot trying to protect him, who died anyway, and if Static hadn't carried her to safety, Dusk might have died as well. Afterwords, Static told Frieda he had decided to abandon his costumed identity. Dusk tried to convince him not to for she was leaving Dakota as she was wanted for murder.
Dakota has remained safe for the most part the occasional robbing and attempted thefts but, that's nothing the police can't handle. The downturn is bangbaby crime meant that Static had more time for friends and school. Virgil was able to begin to do better in school. After graduating he enrolled in Metropolis University majoring in Electrical engineering.
(I had to alter his history in order to establish him in the DC universe as the way he is established involved the Teen Titans and other teams not established on the site.)
Base of Operations:
Previously Dakota City Currently Metropolis
Sample Post:
Virgil walked slowly to the docks with the gun he was given in his pocket. He was nervous about coming here. He wasn't sure what was going to happen to him he could be seriously injured or worse killed.
Maybe I shouldn't do this maybe I should back out before it even starts.
Just then gunfire began to ring out in the night.
Awe man to late.
Suddenly the sound of helicopters surrounded the area and shot out grenades that released a purple gas cloud. He quickly crouched behind a few a barrels.
I can't do this I gotta get outta here quick.
He tossed the gun into the water. He watched as it quickly floated to the bottom of the river. He attempted to out run the dark purple cloud of mysterious gas however, it moved to fast. The gas slowly engulfed him surrounding him in a dark purple cloud.
Virgil coughed as he tried to find his way out of the cloud. After several minutes of blindly attempting to find his way out of the cloud he managed to get out of the cloud. He was dazed and confused as he quickly ran back home.
I'm never ever going do anything like that again.
After sneaking into his house he quickly crept into his bedroom. Luckily his parents and sister were sleeping so he wouldn't have to answer to many questions. After getting to his room he tossed his shoes off and quickly climbed into bed.